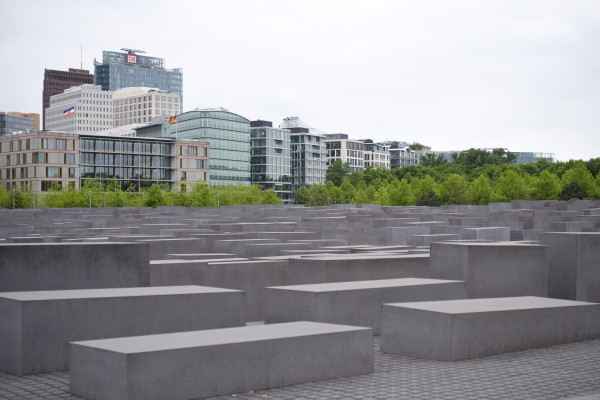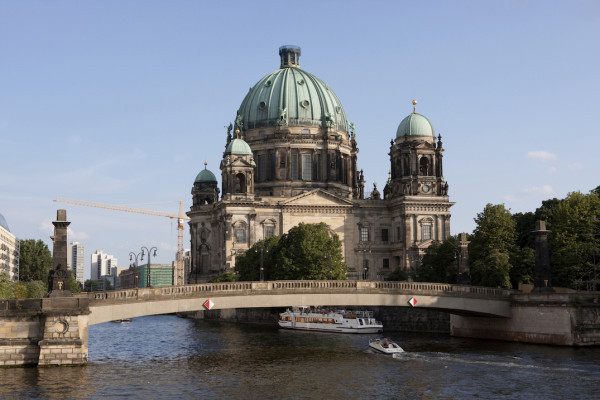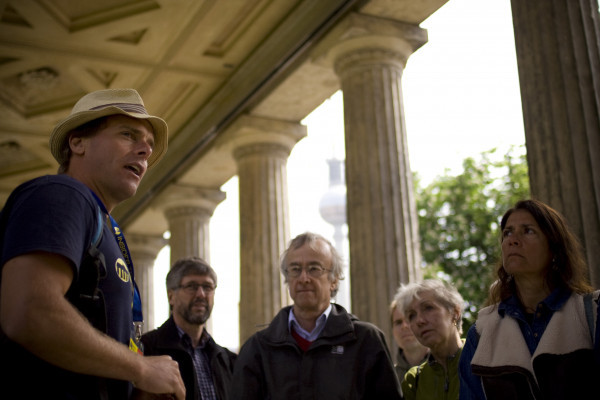 With Insider Tour you'll see and learn far more with guides that are simply unbeatable! Visit ALL the Main Sites (and the hidden ones others pass by!) from the Berlin Wall to the Brandenburg Gate, from the site of Hitler's bunker to the Reichstag parliament building and much, much more
Brandenburg Gate
Site of Hitler's Bunker
Memorial to the Murdered Jews of Europe
Not included

Food, drink, gratuities, transport ticket

Duration
3 Hours
Bring along

Please bring your own mask

Participants
15 maximum
Important information

mportant info for ticket: Please be at the meeting point 15 minutes before departure time!



The tour is in English.

Meeting point: outside Friedrichstr. train station, on the square beside the 'Traenenpalast' (Palace of Tears), Reichstagufer 17, 10117 Berlin. Our guide will be wearing a blue lanyard with a yellow name tag! If you still cannot see us, please call us at the office before the tour starts on +49-30-6923149
Further information
With Insider Tour you'll see and learn far more with guides that are simply unbeatable! Visit ALL the Main Sites (and the hidden ones others pass by!) from the Berlin Wall to the Brandenburg Gate, from the site of Hitler's bunker to the Reichstag parliament building and much, much more!
Delve into the history of Berlin with a tour that charts the city's development from the time of the Teutonic Knights through to its key role in the major events of the twentieth century, as capital of the Nazi Third Reich, as the divided city of the Cold War, and as the modern capital of a unified Germany in the new Europe!
Stroll down Berlin's royal boulevard and retrace the city's evolution from a pagan fishing village into the capital of Prussia, a centre of the Enlightenment under Frederick the Great, the scene of occupation by Napoleon, and the capital of Bismarck's German empireDiscover the brilliant memorial for the Nazi book burning close to where Marx studied and Albert Einstein taught.
Walk across the final battlefield of WWII and find out how the peculiar events surrounding the Reichstag fire led to the Nazis' rise to power in 1933. Stand at the site of Hitler's bunker: an in-depth account of the claustrophobic last days spent inside, Hitler's suicide, the fate of his remains and what became of the bunker itself. Explore the Memorial to the Murdered Jews of Europe and get the inside story behind the incredible controversy surrounding it.

The Wall: the secret history of why it went up and how Berlin was divided overnight. Visit one of the longest remaining sections of the wall left standing close to the former SS & Gestapo HQSee where President Reagan spoke the famous words: 'Mr Gorbachev, tear down this wall!' and where JFK was confronted with the Iron Curtain. Pass through Checkpoint Charlie and discover the site where the Stasi and CIA spied on each other and heroic and tragic escape attempts were made - we'll share the amazing stories surrounding this Cold War crossing point.

Visit Berlin's spectacular new government quarter and get a feel for the contemporary face of the city, its development since the fall of the Wall, and its future directionThe tour finishes at Brandenburg Gate
know betterbook bettergo better
TripAdvisor Traveler Rating
17167 Reviews